Big Burlesque Home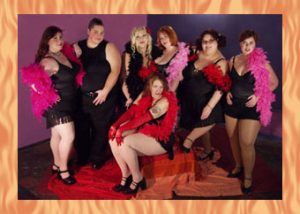 "Burlesque dancing is enjoying a renaissance nationwide, but our show has a twist: it is Big Beautiful Burlesque, where all the strippers have sexy, fat bodies, bodies with curves and flesh to tease and tantalize," — Reva Lucian (formerly known as Ms. DeMeanor)
"Reva Lucian's Fat-Bottom Revue has improved my sex life by leaps and bounds!" — Annie Sprinkle
Best of the Bay calls Big Burlesque "the Best Way to Get a Lap Dance from a Fat Girl"!
et video clips now available!
450 kb/sec | 225 kb/sec
Come check out our Show page to see what's coming next!
Highlights: In 2003 we toured with Candye Kane, and performed at the Tease-O-Rama or Bust show, The Folsom Street Fair, and Tease-O-Rama in L.A., among many other shows. Be sure to get your tickets to these upcoming shows in 2004: Fat Girl Speaks in Portland on May 8th, Fat Fest 2004 May 28th – 31st, The Hopland Music Festival June 4th – 6th, and the St. James Infirmary Benefit on June 24th!