A sexual relationship is not necessarily synonymous with penetration
Posted on: September 22, 2022, by : bigburlesque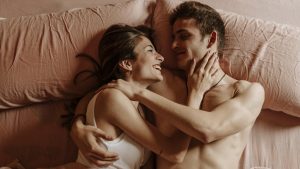 Generally speaking, the view of sexuality is heteronormative , that is, it is based on the traditional sexual scripts of heterosexual relationships that involve penetration (of a penis into a vagina). For many, a sexual relationship can only be considered complete if the act of penetration takes place , ideally with ejaculation.
However, many of us don't want penetration – all the time or sometimes – for very valid reasons: preference for other sex acts like foreplay, pain, low arousal, fear of injunction to performance, etc.
It's hard to counter the idea that penetration is essential, since that's how sexuality has been presented for a long time, and therefore, learned by most as they grow up.
Moreover, this conception of a sexual relationship does not take into account pleasure other than that of the penis, just like the fact that not everyone is heterosexual. Surprise! Of course, queer people and straight women can enjoy penetration, but it would be sad to leave out all the other joys of sex.
There are therefore several problems in this vision that we have of sexuality .
First of all, it's important to know that there is no one action or thing in particular that defines what can or cannot be considered a sexual act. The only thing that is needed is the consent of everyone involved . Otherwise, whether it's fondling, oral sex or otherwise, there are no standards to follow .
And let's not forget, people with vaginas don't just reach orgasm through penetration. The key to ecstasy for these people is clitoral stimulation , which can be done externally as well as internally. As these notions are not generally presented in the sex education system, we often forget this clitoris!
Solo sexuality should also be valued . We tend to completely put aside masturbation , while it is a privileged contact that we have with ourselves. And guess what! Most women masturbate… without involving the penetration of their fingers or a toy into their vagina!
Indeed, other people do not necessarily have to be involved to consider that one has a sexuality! Just because someone is single and not sleeping with anyone doesn't automatically mean they don't have a sex life .
Sexual practices are varied and you have the right to give less space to penetration (or any other act that does not suit you) freely. Your sex life should look just like you!